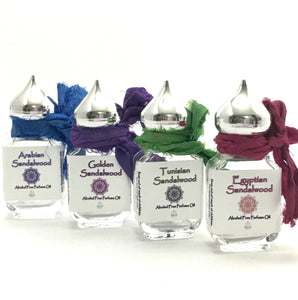 SANDALWOOD SAMPLER GIFT BOTTLE SET
If you are a lover of Sandalwood fragrance and would like to experiment with the different variations in oils, try one of our exotic, imported Sandalwood Perfume Oils.
Our Sandalwood Perfume Oils are of the highest quality. Soft pleasant woody aromas. Imported and cultivated with sustainable forestry practices.
Arabian - Musky and slightly nutty with a deep base note.
Golden - Slightly sweet and slightly green with a subtle floral aroma.
Tunisian - A lighter, clean scent with citrus and woody notes.
Egyptian - A more classic Sandalwood with a slight note of Bergamot and Madagascar Vanilla.
Our 10 ml Gift Bottle comes with a beautiful Sari Ribbon embellishment. (Ribbon colors may vary)
*Oils are not displayed in picture. Note the color of oil will depend on the scent selection.
Looking for a Travel Size Perfume? You found it!

A Special Perfume Gift idea for anyone!
Vegan

Cruelty-Free

Paraben-Free

Phthalate-Free

Alcohol-Free

Unaltered

Highest Quality, Premium Grade Perfume Oil


Long Lasting

Other applications include making your own:


Bath Bombs diy - (Add a drop or 2 to your base.)

Shower Gel Body Wash - (Add a drop or 2 to your base.)

Best smelling Shampoo and Conditioner - (Add a drop or 2 to your base.)

Scented Hand Lotion - (Add a drop or 2 to your base.)

Scented oil for Aromatherapy Massage - (Combined with Carrier)

Body Massage Oil - (Combined with Carrier)

Scented Hot Oil Massage - (Combined with Carrier)

Room Spray, diy Room Scent 

Car Spray or Car Perfume
Visit our sister store for larger wholesale quantities.    https://www.theparfumeriestore.com/  
Email: theparfumerie.info@gmail.com